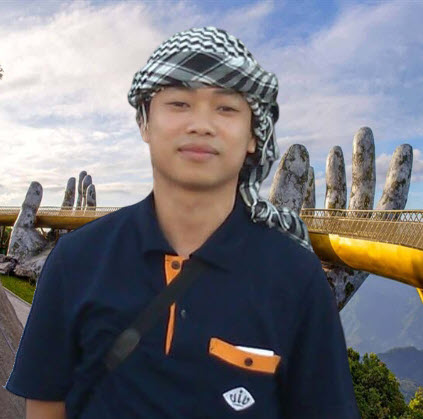 Tran Quang Huy
Pre-Sales Engineer, BA, Techno-Functional Consultant Career Summary
15 years of experiences in IT Consulting and Telecom Sales Training & Consulting. Extensive experiences with BA with strengths on BPMN, MoSCoW analysis, MBO Method and Lean Consulting.
Solution-oriented and hands-on pre-sales experiences, centered in Business Development with additional experience in supper level support in the lean development environment.
Managed revenue models, process flows, operations support and customer engagement strategies.
Conferred with existing and potential customers to assess requirements and propose optimal workflow solutions.
My strengths:
Customer Oriented
Solution Focused
Lean Consulting
OKR Method
MBO Method
MoSCoW analysis
Help client find pain points with fishbone diagram and SWOT method
Work Experience
Projects
(Chronicle listings since the last 5 years)


Lead Developer, Software Architect
TIGO Solutions
2018 - Present
Responsible for: developing, assigning tasks, providing training, coordinating team meetings, and preparing reports.
School Portal


School Portal, aka ERP for school, is the friendly, ease of use and intuitive School Automation Software that suites to almost every school or educational institution from student admission to student leaving, from fees collection to the operation expenses, from student marks to exam results etc.
DEMO

:
http://schoolportal.tigosoftware.com
Technologies used:
PHP 7.x

CodeIgniter

Bootstrap

jQuery

HTML5/CSS3/SASS
Modules:
Students: Student Admission Form, Student Registration by CSV, Bulk Student Registration, Search Students by Classs and Session
Academic: Class Routine, Attendance, Syllabus, Subject, Class and Multi Session
Examination: Marks, Grading System, Student Promotion
Accounting: Student Fee Management, Expense Management, Bulk Invoice Creation, Student Payment Report
Back Office: Library (Books and Borrowing Procedures), Noticeboard, Manage Addon (i.e. Student Biometric Attendance Addon)
.
BeeHive HRM
A lean, intuitive and scalable HRM solution for small and midsize businesses, that helps them to encompass the entire employment lifecycle.
DEMO

:
http://demo-hrm.tigosoftware.com
Technologies used:
Features:
Personal Information Management.
Time, Attendance Management and Disciplinary Tracking.
KPI and Performance Tracking.
Dashboard and Custom Reporting
Custom Workflows
Travel and Expense Tracker.
Asset Management
Booking Portal
A Web software to create and manage websites for multi hotels, resorts, spa etc.
DEMO

:
http://bookingportal.tigosoftware.com
Booking Portal uses the modern CMS, a Content Managment System which contains a simple, ergonomic and complete admin panel which allows agency users to manage easily the content of front-end booking Web coupled with an easily customizable template.
Several new specific modules: bookings, hotels, rooms, activities, rates, coupons, packages, extra services and facilities.
Ideal for a Web agency wishing to spread web sites quickly and simply for its customers!
Technologies used:
PHP, MySQL

Leaflet JS for interactive maps

D3.js
Responsibilities:
Conducted interviews with key business users to collect information on business processes and user requirements.
Developed Sales metrics and Fishbone diagram derived from raw company data to track improvements in organizational efficiency.
Created Use Cases and BPMN diagrams using online tool http://draw.io
Performed competitor bench-marking analysis to identify manufacturing savings opportunities and potential product enhancements.
Document Management System (DMS)
Manage digital asset files in the cloud or under VPN network with desktop-like intuitive features such as dragging files to send to contacts and groups, moving files to other folders or even deleting them.
Besides, the app provides document validity management tool. It helps you set alarm/reminder for the renewal of all of your important documents like commercial licenses, insurances, passports, visas, personal licenses, subscriptions and so on. You will get notified about their expiry through email. Now that you won't be missing out on any important expiry dates, you also won't be paying any fines, extra charges for delay, basically no more consequences that come from missed expiry dates. Whether you are an individual or a corporate entity, it offers the same flexibility to cater for your needs.
Core Features:
User can upload own documents
User can add metadata (note, comments, supporting images) to document
User can Search & Downloadss
User get notified by email for document updates
User can set password to protect the download files
Send Files to Individuals or Groups with Drag n' Drop.
Set download expiry
Track download times
Built-in reminder settings (one month / fifteen days / one week / one day before expiry)
Periodical reminder settings for reviewing/updating documents (policies, contract templates etc)

Click + on top-right to show more features!
Responsibilities:
Conduct the surveys to gather implicit requirements
Create the detailed requirement specs
Create the fishbone diagram to learn why a firm is failed to improve the quality of their documents
More Features:
An image viewer to preview image documents
Limit user access to specific document areas.
Import/Export Files for your Dropbox
Safely keep a record/copy of your documents
Url Shortner for downloads
Technologies used:
Senior Business Analyst
Smart Apps (3 years)

2013 - 2018
eGarage Pro: Auto Service Shop Management with HRM and CRM
eGarage Pro is powerful, flexible complete management software for repair shops with timeclock, commisions, payroll and complete inventory management. It has powerful reporting features. You and your clients can keep track of repair status and invoices.
Contracy Type: Outsourcing
Responsibilities: Analyze the existing system. Propose new solutions and custom features to meet the scaling user base.
Demo: http://eGarage.tigosolutions.com
Technologies used:
Features:
Dashboard and utilities
Integrated Point of Sales (POS)
Customer Management
Inventory/Stock: Repair Parts, Used Cars
Accessories, Plans, Count/Transfer Stock
Purchases Management
Sales Management
Commisions Management
Accounts Management
HRM, Time Clock, Payroll
Notifications, Scan Serials, Emailer
Activity Stream
Warranty, Plan Reports
Taxes, Models, Categories etc.
Responsibilities:
Development of the front-end of the site Responsive Design
Model definition data is retrieved via a remote API
Creating the Profile module that enables account management and user roles and integration with social networks Facebook and Twitter
Integrating BDD GeoMind for geolocation of the user (eg list of theaters near you)
Developm module to use the API and therefore WWmedia view information about cinemas and French films and use Magento Caching System to make high performance.
Develop the recommendations engine that offers users the possibility of granting leave notes or comments about the films they have seen
ACHIEVEMENTS
Successful at working with different persons and difficult stakeholders. Thanks to my strengths in my extensive experience, communication and maturity, I have achieved numerous key results, including:
Worked closely with software development and testing team members to design and develop robust solutions to meet client requirements for functionality, scalability and performance.
Achieved 80% success in automation by analyzing claim operations, data and system issues to identify discrepancies for troubleshooting and corrective action.
Overhauled operational workflow to launch the on-premier product into new processing platform (Cloud-based).
Skills & Tools
BUSINESS DEVELOPER
Communication skills

Analytic skills

Marketing skills

Communication skills

Product UX
OTHERS
Tact and diplomacy

LightGallery JS
Education
BSc in Computer Sciences

University of Transport and Communications

2000 - 2005

Master in MBA

Foreign Trade Unverisity

2010 - 2012
Language
Vietnamese

(Native)

English

(Intermediate)
Interests
Play rubik's cube with kids
Music
Bowling
Social networking
Read the book "The 7 Habits of Highly Effective People"
My quote: